16.05.2014 17:04 h
Football: Stake your World Cup claim, Prandelli tells Azzurri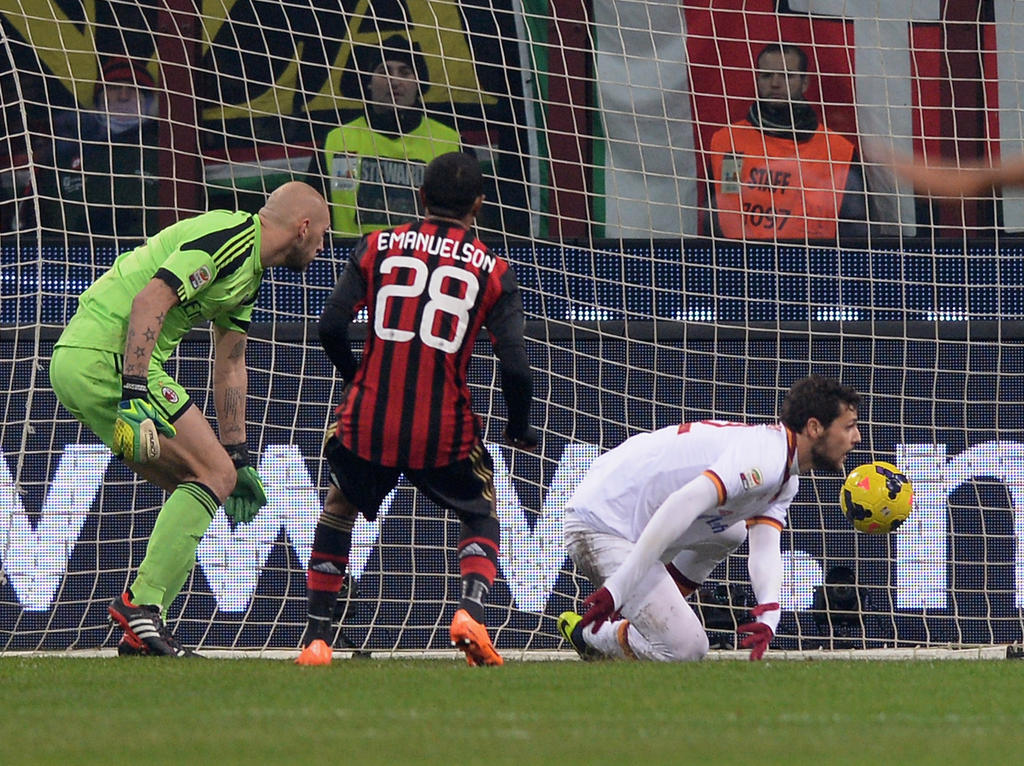 Destro drückt ihn drüber
Italy coach Cesare Prandelli called on his fringe players to stake their claim for a World Cup place during an upcoming training camp that will see seven players cut from his provisional 30-man squad.
Two years after a surprise appearance in the final of Euro 2012, Prandelli embarks on a first World Cup campaign hopeful of putting the Azzurri in contention for a record-equalling fifth World Cup triumph.
The 56-year-old insists that that dream can only take shape once Italy, who have dropped to ninth in FIFA's rankings, successfully negotiate passage through a Group D composed of England, Costa Rica and Uruguay.
Prandelli told Gazzetta dello Sport on Friday: "First, we have to pass the first round and then we have to organise as best we can to get to the final. I want to go to the final."
The first step will begin when Prandelli sheds seven players from his 30-man squad during ten intense days of training and physical tests beginning Monday at their Coverciano base near Florence.
"Now, we have 10 days of training in which I will also be taking into consideration the results of scientific tests, without having to rely solely on what I see," said Prandelli.
Among the strikers, only AC Milan's Mario Balotelli has cemented his place. It means veteran Antonio Cassano (Parma), Giuseppe Rossi (Fiorentina), Torino striker Ciro Immobile -- Serie A's top scorer this season so far on 22 goals -- and Mattia Destro (Roma) will all be under the microscope.
Italian media have recently speculated on a 'duel' between Cassano, who despite having 35 caps would make his World Cup debut, and Rossi, who only returned from a four-month injury lay-off two weeks ago.
But Prandelli added: "Both of them could make the trip: I'm not excluding anyone."
Immobile's sterling season has already impressed Prandelli, who believes the 24-year-old could go on to make a starring appearance by emulating Italian legends Paolo Rossi and Salvatore (Toto) Schillaci.
Rossi scored six goals on his way to Italy's World Cup triumph in 1982 while Schillaci became a huge star in 1990 when, after coming on as a substitute in the first game, he cemented his place to go on and score six goals to also win the competition's 'Golden Boot'.
"He (Immobile) has scored a lot of goals and silenced the critics who said he was 'only a boy'," said Prandelli.
"Ten months ago he wasn't in contention, but thanks to his stubbornness he is now. In the history of the World Cup, other strikers have emerged like this -- Paolo Rossi, or (Toto) Schillaci."
Prandelli, however, refuses to rule out Destro. "They could both go. It's not necessarily about one or the other," he insisted.
Choices must also be made in the midfield, with Lorenzo Insigne (Napoli), Alberto Aquilani (Fiorentina) and recent call-up Romulo (Verona) said to be in the balance.
After Coverciano, Prandelli will also have a better idea of which tactical formations to use in Brazil, with preparations afoot to employ a 4-3-1-2, 4-5-1 or 3-5-2.
Following a third-place finish at last year's Confederations Cup, he believes flexibility could be key.
"In the Confederations Cup last year we changed our formation and our personnel a lot. But being able to do that gives you extra options. It's an advantage," he added.
Barely three days before the start of camp on May 19, Prandelli claims he has a "fair" idea on his final 23. Once in Brazil, he wants all of them to pull together with the single aim of going as far as possible.
"I have a fair idea. I haven't even thought about a starting 11, but this will be a World Cup in which 23 players will get the chance to play.
"Everyone has to understand they might play only one game. But it might be 'the' game'."