11.10.2015 22:23 h
Greeks look to future after woeful Euro campaign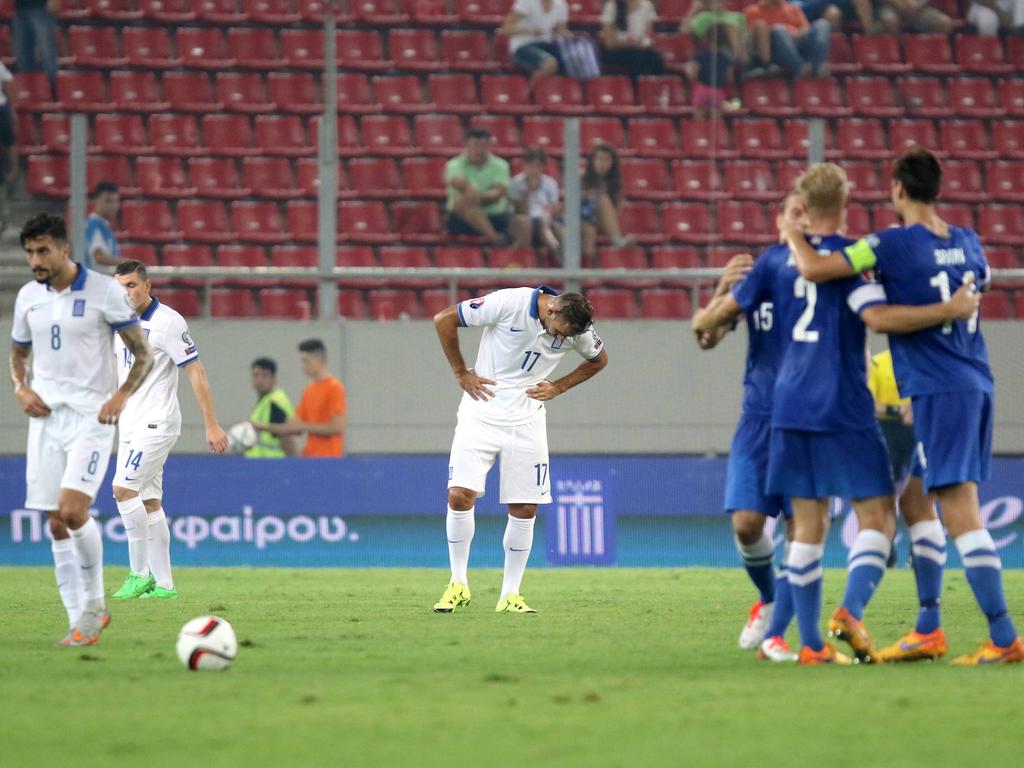 Greece are looking to turn the page on a disastrous performance in their Euro 2016 qualifying group with hopes that a new coach will steer them towards a brighter future.
Greece's 4-3 win at home against Hungary on Sunday in their final match in Group F represented the lone victory of a campaign which saw the Greeks finish last, with just six points, for the first time in a group stage.
The victory was the first for Greece since June 2014 when they beat the Ivory Coast at the World Cup in Brazil.
In February 2014, Greek officials were jumping with joy following the qualifying draw for Euro 2016 which saw them placed in a seemingly straightforward group.
"We went into the group stage with our noses up high. We thought it would be very easy, but it wasn't," midfielder Panagiotis Kone, who scored the winner in Sunday's finale against Hungary, said in an interview with Novasports.
Instead Greece are searching for answers after a calamitous campaign that saw three coaches select a total of 53 players but unable to make the team click.
A decade on from their surprise Euro 2004 success, and after reaching the World Cup knockout stages for the first time in Brazil, Greece hit rock bottom after a pair of defeats to the Faroe Islands.
"You cannot lose twice to Faroe Islands. For me it is shameful, without taking away credit from their achievement," said Greece captain Vasilis Torosidis.
Greece's interim coach Kostas Tsanas is optimistic that the new players he used in Sunday's win will help build a new, more successful team.
"There is time until the 2018 World Cup qualifiers and enough time to evaluate all that happened, to find the causes that led to bad results and move forward," said Tsanas, who followed the failed reigns of Claudio Ranieri and Sergio Markarian.
"There are quality players who can lift the load in this group in the future," he added.
Midfielder Panagiotis Tachtsidis stressed it was time to leave the bad performances behind and look to the future.
"We want the right coach, there is talent on the team and with a good coach we can achieve a lot," Tachtsidis said.
Greek Football Federation president Giorgos Girtzikis said it is only a matter of time before a new permanent coach is announced.
"I have made contacts with worthy coaches, but we have not come up with a decision yet. We have to find a coach by November 13 when we play a friendly with Luxembourg," Girtzikis said.
"For sure we closed a black chapter in our history. But this happens in football and we will not be present in France for the Euro 2016 finals."