11.08.2016 06:27 h
'Gabigol' rescues Brazil from Games shame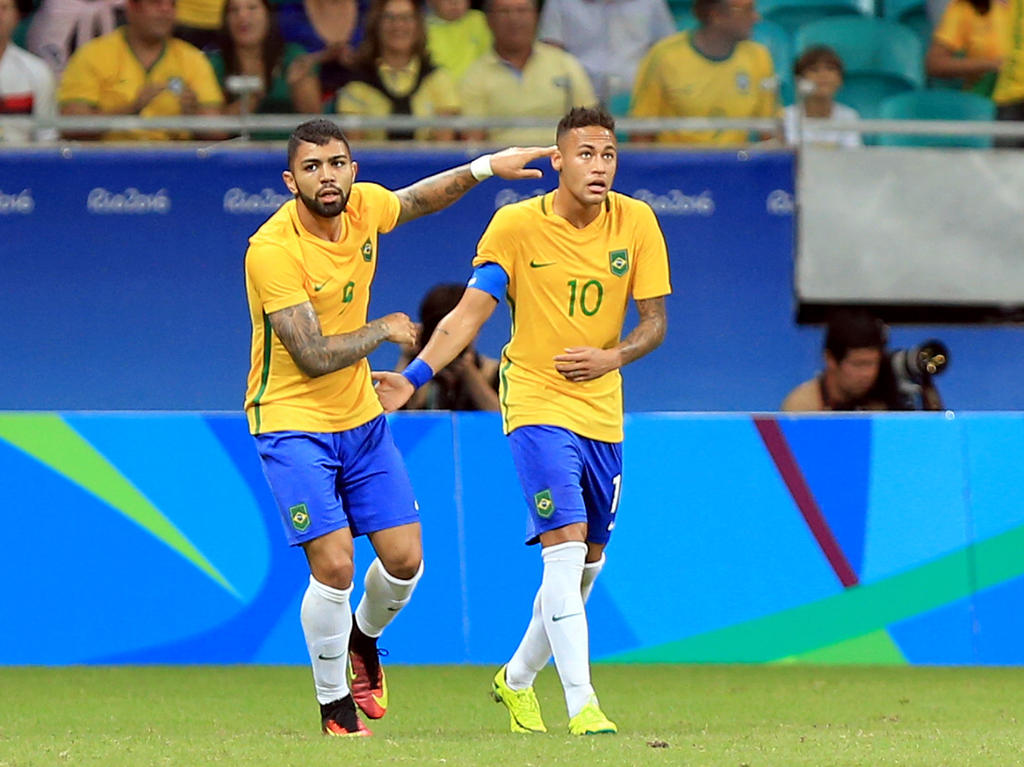 Brazil's newest football hero Gabriel Barbosa hailed a night of "fantasy" after scoring twice to fend off a humiliating early Olympic exit on home soil with a 4-0 win over Denmark on Wednesday.
The in-demand Barbosa, nicknamed 'Gabigol' for his prolific exploits for Santos, broke Brazil's 200-minute goal drought after goalless draws with Iraq and South Africa to get their quest for a first football gold medal back on track.
"We showed a lot of patience, that was important and the fantasy arrived," said Barbosa, a top target for a host of European clubs with Premier League champions Leicester City at the head of the queue.
Manchester City's new recruit Gabriel Jesus then volleyed home a second before Luan and Barbosa's second rounded off a comforting night for a relieved home nation.
"It was a beautiful win. The first two games we didn't play badly, but the goals didn't come and sometimes the fans focus solely on the result," added Barbosa.
Victory was also enough to guarantee top spot in Group A to set up a quarter-final meeting with Colombia on Saturday.
Brazil are now unbeaten in 14 games in Salvador and they received a warmer welcome on and off the pitch in the north-east than for their previous two games in Brasilia with temperatures nearing 30 degrees warming an enthusiastic crowd.
Neymar had gone from Brazil's golden boy to whipping boy in the past week with the national team's women's captain Marta usurping him as the hosts' darling after a series of sensational displays.
However, he shone in a supporting role for Brazil's other attacking starlets to get the goals.
The sigh of relief was almost audible across the country when 'Gabigol' bundled home Douglas Santos's low cross with his shin on 26 minutes.
Jesus had admitted to having "sleepless nights" after missing golden chances in both opening games.
"Tonight we will sleep soundly," said the 19-year-old, who joined City for £27 million ($36 million, 32.2 million euros) from Palmeiras earlier this month.
He made amends with a brilliant volleyed finish at the back post from Luan's cross to dispel any lingering Brazilian doubts.
"I feel more than relief. I said in the interviews that I was sad because the goals didn't come for me, the team didn't score or win.
"Today we started with a stronger spirit and managed to get the goals."
Neymar was at the heart of the third five minutes after the break when his through-ball caught the Denmark defence square and Santos crossed once more for Luan to slot home.
Barbosa rounded off the scoring 10 minutes from time when his deflected effort left Danish 'keeper Jeppe Hojbjerg helpless.
And having overcome the stress, doubts and nerves caused by large swathes of the Brazilian public turning their back on the team after their opening two displays, Paris Saint-Germain defender Marquinhos believes the hosts are back in the driving seat to deliver gold at the Maracana on August 20.
"The criticism did us good. We had to make the most of it to turn the situation around. We have achieved our objective (tonight) by playing collectively, which is what we lacked, but playing like this we can go even further."
Denmark also progressed to the last eight where they will face Nigeria as the other game in the group between Iraq and South Africa finished 1-1.
Germany meet Portugal and South Korea take on Honduras in the other two quarter-finals.