04.09.2017 22:51 h
Germany rout Norway, but wait for Russia berth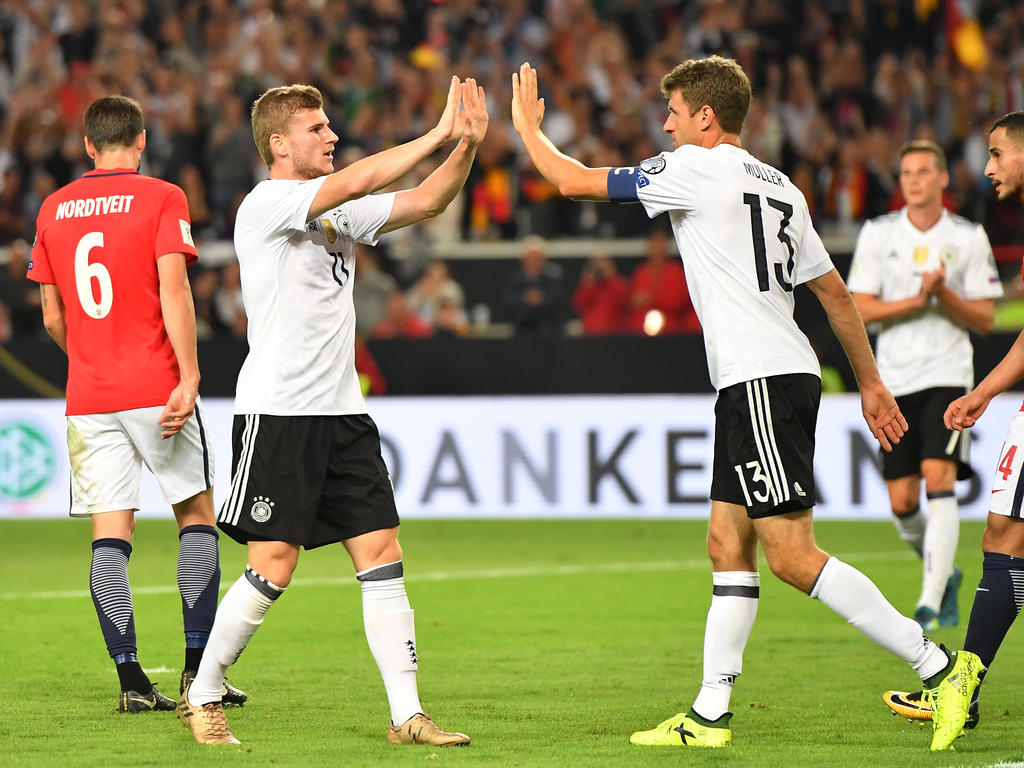 Timo Werner netted twice on Monday as Germany routed Norway 6-0 in a World Cup qualifier, but Joachim Loew's team must wait until next month to confirm their Russia 2018 place.
The world champions have won all eight of their qualifiers so far to top Group C and are unbeaten in their last 17 games, dating back to their defeat against France in the Euro 2016 semi-finals.
However Northern Ireland's 2-0 win over the Czech Republic in Belfast on Monday means Germany must wait until their next qualifier -- against the Irish in Belfast on October 5 -- to confirm their World Cup place.
Werner capped a stunning display with two first-half goals as Germany cruised to 4-0 up at the break in Stuttgart to leave him with six goals in just eight internationals.
"That meant a lot to me, because this is my home town," said Stuttgart-born Werner.
"I grew up here and I am pleased I could score twice to pay back the fans."
The 21-year-old was booed and jeered by his own fans in the 2-1 win against the Czech Republic in Prague last Friday.
He has an unfair reputation for cheating after diving to win a penalty last season for his club RB Leipzig.
However, he revelled in the victory in his hometown, having started his career with VfB Stuttgart, and came off to a standing ovation on 66 minutes against Norway.
The ugly scenes in Prague, where a group of 200 right-wing German fans chanted Nazi-era slogans, were not repeated in Stuttgart.
"That showed the beautiful side of football," said head coach Loew, who had said Friday's scenes in Prague "shamed Germany", following Werner's ovation after his two goals.
"It was a huge amount of fun to play here and we played our part in that with some great combinations and goals."
After struggling to beat the Czechs, this was a far more polished performance from the world champions who raced into a 3-0 lead after just 21 minutes against the hapless Norwegians.
Arsenal midfielder Mesut Ozil was a key figure, sparking the rout by finishing off a chance he created when he fired home Jonas Hector's cross for the opening goal after just ten minutes.
Paris Saint-Germain star Julian Draxler, on Germany's right wing, netted the second on 17 minutes when he turned in a tight space between defenders and fired home Ozil's final pass.
Werner, who also netted the opening goal in Prague last Friday, then slotted home Thomas Mueller's final pass with a classic striker's goal on 21 minutes.
Werner claimed his second by heading home Mueller's cross on 40 minutes.
It could have been 5-0 at the break after Toni Kroos' shot was stopped by a superb save from Norway's goalkeeper Rune Jarstein, who plays for Hertha Berlin, on the stroke of half time.
Norway's defence was breeched again just five minutes into the second-half when Schalke midfielder Leon Goretzka grabbed Germany's fifth goal when he headed home Draxler's cross.
Werner's replacement, the 32-year-old veteran Mario Gomez, headed home Germany's sixth on 79 minutes for his 31st international goal on his 71st appearance in the famous white shirt.