28.02.2018 19:44 h
Pjanic sends Juventus into fourth successive Italian Cup final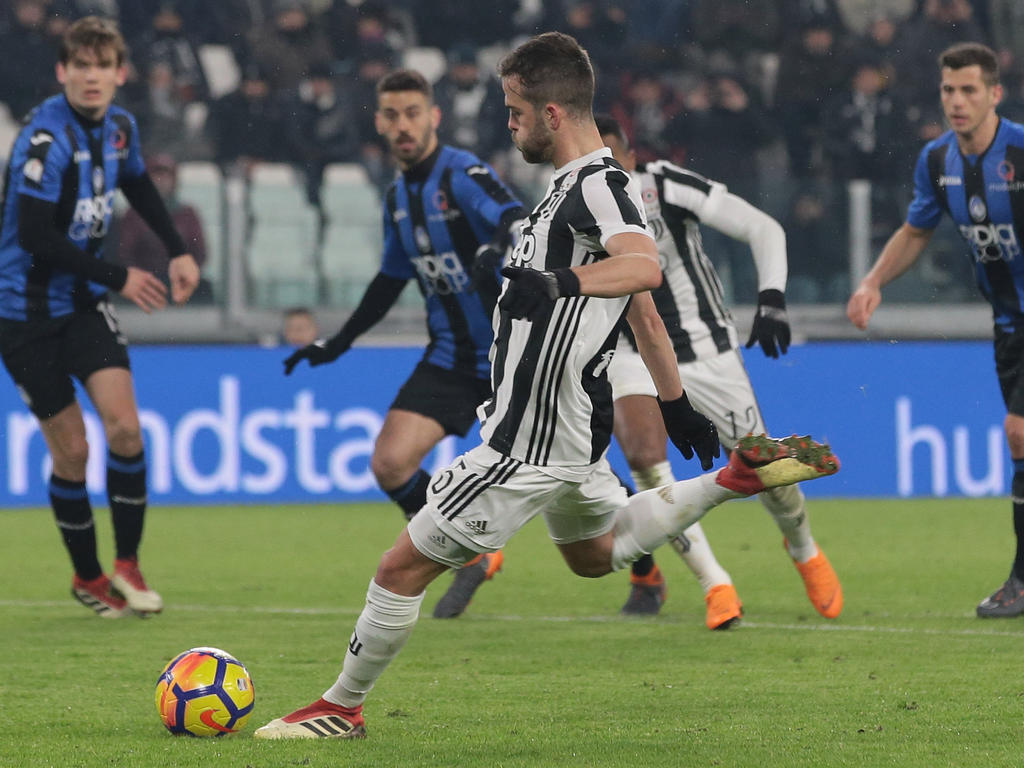 Holders Juventus booked their ticket to the Italian Cup final for the fourth year in a row after a 1-0 win over Atalanta in a semi-final second leg tie played in the snow in Turin on Wednesday.
The first leg ended 1-0 in Bergamo thanks to an early Gonzalo Higuain goal, and Juventus also won the second when Miralem Pjanic slotted in a 75th-minute penalty awarded after Blaise Matuidi was fouled in the box.
The two sides were meant to play on Sunday in Serie A action, but that fixture was snowed off, and it was still snowing lightly in the Allianz Stadium.
"Compliments to the lads for what they did tonight and are doing this season," said coach Massimiliano Allegri.
The three-time holders will play either AC Milan or Lazio -- who are 0-0 going into the second semi-final later on Wednesday in the Stadio Olympico -- in the final which will be in Rome on May 9.
"We will play in a historical stadium, but it must not become an obsession," continued the Juventus coach of their bid for a record fourth Cup crown.
"In the first half we had difficulty closing them down, after the break Douglas Costa started playing in a centre-forward role and that broke the game open."
Higuain missed out as he recovers from a sprained ankle with fellow Argentine Paulo Dybala coming off the bench after 11 minutes.
Atalanta had come out firing with Alejandro Gomez sending over the bar with Gianluigi Buffon tested as he latched on to Josip Ilicic's deflected cross pushing over the top.
Costa was at the centre of the action with the host's first chance coming after quarter of an hour but Matuidi failed to get to finish off a Pjanic free kick.
Mario Mandzukic threatened after 35 minutes following a solo run but Etrit Berisha proved solid from close range and also cleared a Costa cross, with Kwadwo Asamoah hitting the side-netting.
Gomez thought he had scored the equaliser for Atalanta after the break with Buffon off the line, lobbing the Juventus captain, only for the ball bounced off the outside off the post.
Costa hit back but his curler rattled the crossbar.
The breakthrough came when Juventus were awarded a penalty when Matuidi went down under pressure from defender Gianluca Mancini, with Pjanic slotting in to the fury of Atalanta coach Gian Piero Gasperini.
"That penalty was non-existent," blasted Gasperini as his side missed out on their bid for just a second Cup title after 1963.
"Juventus are a great team and very strong, we caused them severe problems.
"We mustn't get downhearted. We came a little closer to the Bianconeri," he added, with their rescheduled Serie A fixture against Juventus in Turin on March 14.
It will be a record 18th final for Juventus with Allegri's side bidding for a 13th Cup in total.
But first he was focusing on Lazio this weekend in Rome, as Juventus bid to catch up with Serie A leaders Napoli, and the Champions League last 16 second leg tie against Tottenham in Wembley Stadium after being held 2-2 in Turin.
"Now we've got an important game coming up in Serie A with Lazio and then we must be at our best in London against Tottenham Hotspur."