20.12.2013 02:15 h
Football: Milan fightback faces reality check in Inter derby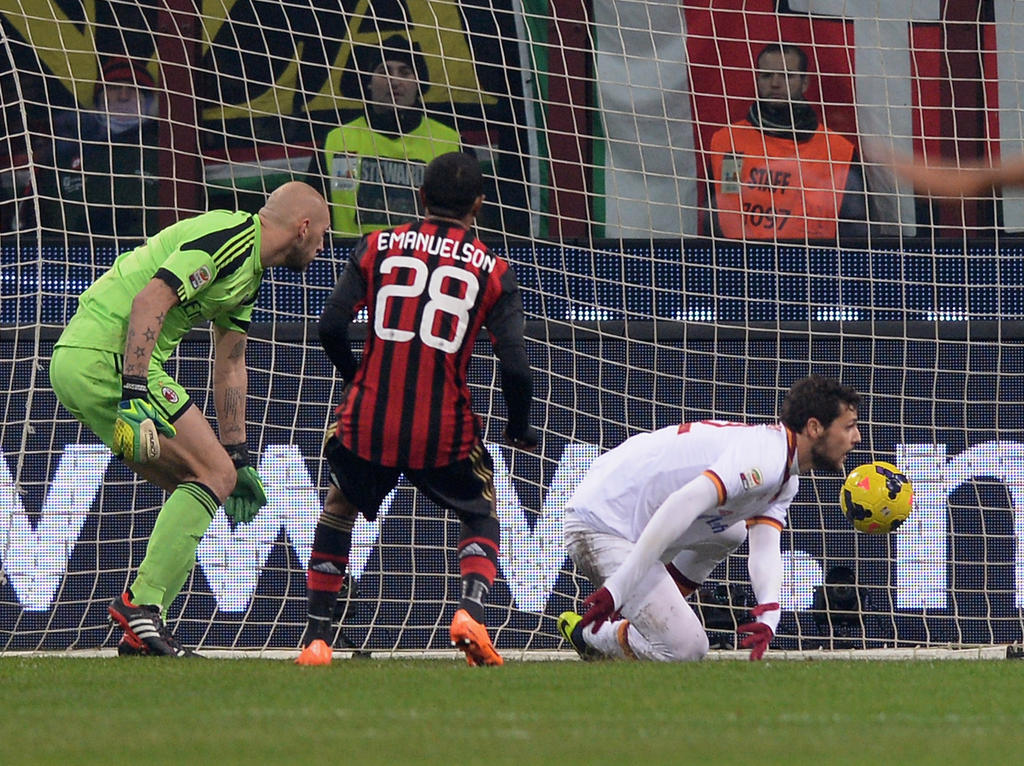 Destro drückt ihn drüber
AC Milan's bid to close a yawning gap to Serie A pacesetters Juventus, Roma and Napoli faces another reality check in the city derby at Inter on Sunday.
After another inauspicious start to the season, Milan sit mid-table but 24 points adrift of leaders Juventus and, perhaps more worryingly, with a 16-point deficit to Napoli who occupy the final Champions League qualifying spot.
The chances of Milan salvaging a top-three finish at the end of the season look slim -- and goalkeeper Christian Abbiati admits a win in the Rossoneri's last game before the festive break would be welcome.
"The derby is always a spectacular match and we probably need this win a bit more than them at the moment," Abbiati said Thursday. "We'll have to defend with all 11 players on Sunday."
The first Milan derby of the season is one of the high points of the pre-Christmas programme but the San Siro ground shared by both clubs will not be full.
Inter, who sit fifth, 15 points behind Juve and seven behind Napoli, will have their 'Curva Nord' section of the stadium closed as punishment after fans were found guilty of chanting 'discriminatory' remarks against Napoli fans.
Inter coach Walter Mazzarri admitted to Sky Sport Italia: "I don't think this will be good for the image of our game."
However the Nerazzurri handler will likely be more concerned by what is happening on the pitch.
Losing the first derby of the season to a struggling Rossoneri side would do little to boost Mazzarri's stock, especially with Inter having taken only three points from their last four games.
Inter are set to welcome Mauro Icardi back to the fray following a lengthy absence due to a groin injury.
Although he may only make an appearance from the substitute's bench, the Argentinian striker is fired up by the memory of having scored his maiden Serie A goal, for Sampdoria, against Milan last season.
"I dream the derby will be like last season when I scored on my Serie A debut with Sampdoria," Icardi told Sky Sport Italia.
"All I can think about is giving my all when I come off the bench because I'm coming on to help my team-mates and I have to get back to their level."
Juventus, meanwhile, bounced back from the disappointment of their Champions League exit last week with a 4-2 win over Inter and will look to extend their five-point lead over Roma away at Atalanta.
Despite their exit in Europe, Antonio Conte's side boast solid form on the domestic front having won their last eight games without conceding a goal.
Conte, however, leads his side to Bergamo hoping to forget seeing his name linked to the latest episode of the 'Calcioscommesse' match-fixing scandal to have resurfaced in Italy earlier this week.
The Juve coach served a four-month ban at the start of last season as punishment for the role he played in the affair in his former role as coach of Siena, and stressed: "There is nothing new or relevant from a legal point of view. I have been judged by the sporting authorities and served a painful suspension."
Defeat to Atalanta, who have lost only once at home this season, to Fiorentina, would give some hope to title-chasers Roma, who dropped precious points in a draw at Milan on Monday but should bounce back against Catania.
Napoli, who like Juve exited the Champions League, are away to Cagliari in what should be an easy three points for Rafael Benitez's side in Saturday's late match.