27.04.2018 17:52 h
Lack of fuel caused plane crash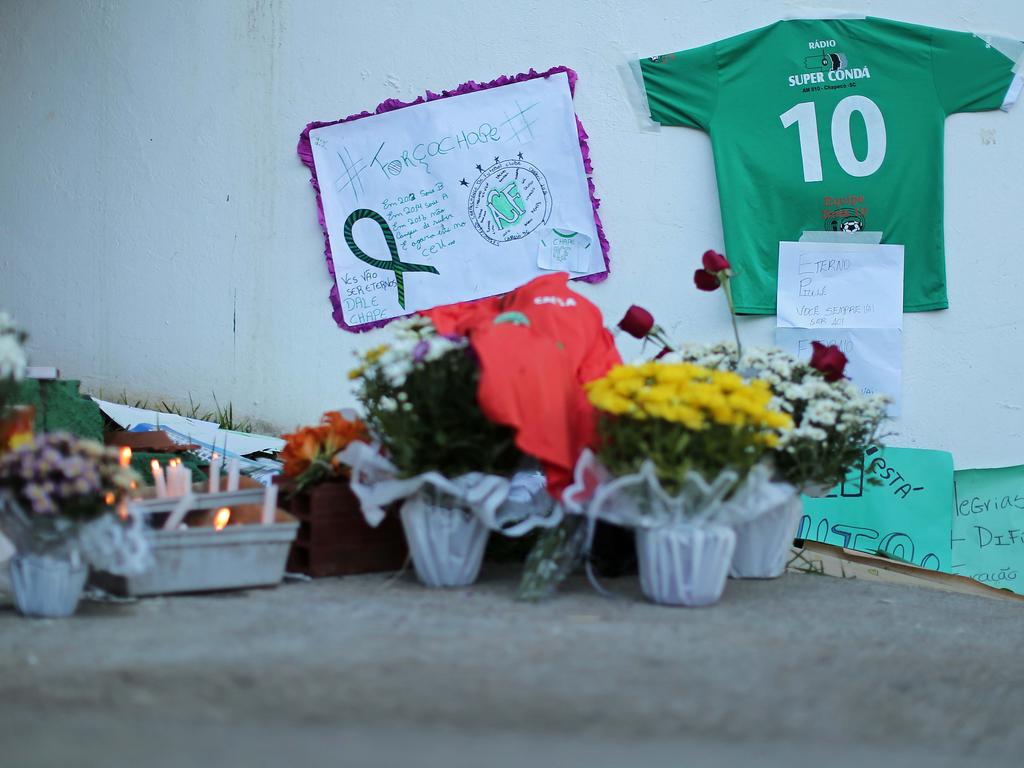 The 2016 plane crash that nearly wiped out an entire Brazilian football team was caused by a lack of fuel, Colombia's civil aviation authority said Friday, following an extensive investigation into the disaster.
It blamed the shortage of fuel on mismanagement by LaMia Airlines, a now-defunct Bolivian charter firm that specialized in flying Latin American football clubs.
The probe was launched after the tragic crash in the Colombian mountains in November 2016, which claimed the lives of 71 people, including all but a handful of players from the Chapecoense team, from southern Brazil.
Only six people survived, three of them Chapecoense players.
The tragedy cut short the club's fairy tale rise from obscurity to the finals of the regional Copa Sudamericana tournament, in which they were to face Atletico Nacional of Medellin.
The accident "was caused by the plane's empty fuel tank as a result of inappropriate risk management by LaMia," said Miguel Camacho, who heads the authority's accident investigation branch.
Investigators from Bolivia, Brazil and Colombia had been probing the cause of the crash, with Friday's report confirming what had been a leading theory after a recording emerged in which the pilot radioed the control tower to report a fuel emergency.
Following a preliminary investigation a month after the crash, the Colombian aviation authority said it believed the airline had disregarded international rules on fuel reserves.
In its report Friday, the aviation authority said it had found sufficient "evidential and technical support" to corroborate that theory.
"The aircraft was carrying 9,073 kilograms of fuel, which was insufficient to fly" between Santa Cruz, Bolivia and its final destination, the international airport in Rionegro outside Medellin.
"It did not meet the minimum fuel standard for an international flight," he said.
The probe, which also involved investigators from Brazil, Bolivia, Britain and the United States, said the airline was in "a precarious financial situation" and that it was also not the first time it had allowed planes to fly "with critically low supplies of fuel."
It also suggested that the pilots were aware of the fuel emergency for some time before contacting air traffic controllers in Colombia, who were exonerated of any responsibility for the crash.
Forty minutes before the accident, "there was an indication in the cabin about the low fuel level and from that moment, the plane was already in an emergency," Camacho said.
However, "the crew did not inform air traffic control about this emergency to request priority" landing, he said, without suggesting why.
As well as lacking fuel, the plane was also overweight by about 500 kilograms (1,100 pounds).
"In light of the factors which contributed to causing this tragic accident, there were latent shortcomings on the part of LaMia relating to a failure to comply with fuel policies, a lack of supervision and operational control," the civil aviation authority said in a statement.
Shortly after the crash, Bolivia suspended LaMia's permit to operate, effectively shutting it down.