15.05.2015 19:24 h
Van Gaal wants injury-plagued Shaw to take a break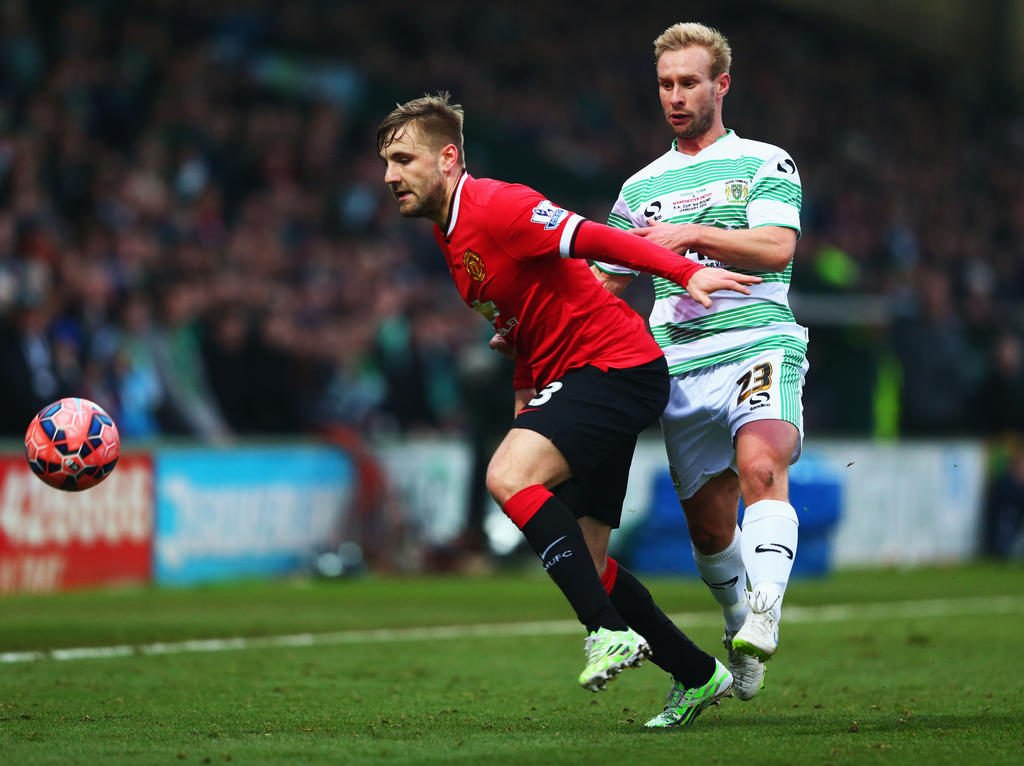 Manchester United manager Louis van Gaal has implored England Under-21 coach Gareth Southgate not to include left-back Luke Shaw in his squad for the European Championships.
The 19-year-old defender has endured an injury-plagued debut season at Old Trafford having joined United from Southampton in June last year.
Southgate will announce his squad for next month's U21 tournament in Czech Republic on May 20, but van Gaal does not want Shaw to be part of it.
"When he is not playing for Manchester United, he cannot play for other teams," van Gaal told reporters on Friday.
"He needs that rest I think, because he has over-crossed his limits, and that's why.
"He is 19 years old, what do you expect? We have to protect him and I hope that the coach of the U21s is understanding for that reason."
Shaw will be absent for United's Premier League clash against Arsenal on Sunday having sustained a concussion in the win over Crystal Palace last weekend.
Van Gaal also revealed that his striking options will be depleted for the visit of the third placed Gunners, with captain Wayne Rooney ruled out with a dead leg.
Centre-back Jonny Evans is doubtful with a knock, although striker Robin van Persie, winger Angel Di Maria and defender Marcos Rojo have all overcome a virus and should be available.
Despite his team's injury problems this term, van Gaal claims he is not envious of Arsenal's comparatively healthy record ahead of their visit to Old Trafford.
"You cannot avoid injuries like Wayne Rooney and Luke Shaw," he said. "You cannot avoid them because football is with physical resistance and also a little bit of luck, or you are unlucky maybe.
"We have only one match to play after Arsenal, so I think it will be difficult for them to play again this season.
"We have had in the first part of the season an average of 10 injuries a week and I could never line up the same.
"I have said the most important thing is to make a balance in our selection because it's not good that I have to change the position of players because players are injured.
"We have to bring that balance back in the selection, and that was not (the case) in this year."
United's executive vice chairman Edward Woodward claimed he was "delighted" with van Gaal's first season at the club even though they haven't won a trophy.
And the former Netherlands coach said that was because he had secured their target of a return to the Champions League.
"Are you surprised that he's satisfied?" van Gaal said. "Maybe you remember our first press conferences. We have set the goal together, me and the board.
"The goal was in the first four positions, and we have reached that already two games before the end of the season - it's not bad I think."
United have been linked with moves for Real Madrid midfielder Gareth Bale and Tottenham forward Harry Kane this week, but van Gaal refused to comment on the speculation.
"You can mention a lot of names. I have seen that I buy everyone in the world but it's not like that," van Gaal said.
"Transfers is also a process, it's not 'I want you and he comes', there are always three parties - the player, the club, and ourselves. It's not so easy."