16.01.2015 12:07 h
Wilkins hails Jordan's 'Geoff Hurst' after 5-1 rout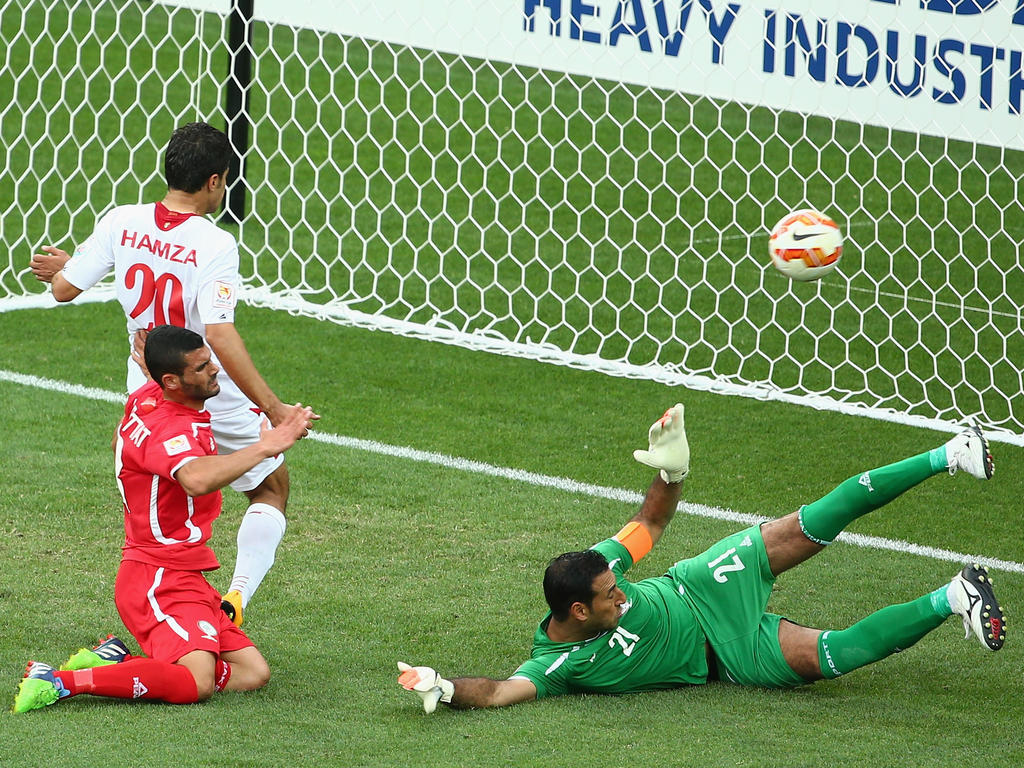 Jordan coach Ray Wilkins compared four-goal hero Hamza Aldaradreh to England's World Cup-winning striker Geoff Hurst after his side's 5-1 rout of Palestine at the Asian Cup on Friday.
Wilkins revealed that Aldaradreh had been his third-choice striker and only played after sharp-shooter Ahmad Hayel collapsed from dehydration during a doping test earlier this week. He responded with the first hat-trick of the tournament.
"I go back to 1966 when England won the World Cup -- Jimmy Greaves was one of the best centre-forwards in the world and Sir Alf Ramsey had to make a choice to keep Geoff Hurst in," Wilkins told reporters after Jordan avoided an early Asian Cup exit in Melbourne.
"It panned out quite nicely for England. Hamza was probably my third choice and now he's given me a horrible bloody headache which I've got to try and sort out. But I'm delighted for him and delighted for the lads as well."
Wilkins confessed he actually knew very little about the Asian Cup's new top scorer, only the fourth player in the competition's history to net four goals in one game.
"His background, I've no idea," he said. "But you saw what his assets are. He's got blistering pace and when he's in front of goal he'll stick it in the back of the net. He's very composed in front of goal. His pace will scare people."
Aldaradreh's heroics helped Jordan end a miserable run of 11 games without a win, but their hopes of advancing still hang in the balance with defending champions Japan to come in their final Group D game on Tuesday.
Wilkins faces a difficult decision against Japan after confirming that Hayel looks set to recover in time to face the Blue Samurai.
"The situation has improved very well indeed which I'm thrilled about," said the former Queen's Park Rangers and Fulham manager. "He was in a pretty nasty way, but fingers crossed he will be okay and we'll take it from there."
Aldaradreh snaffled a poacher's goal moments after Yousef Ahmad's superb opener before adding his second in first-half injury time. He completed his treble with a clinical strike in the 75th minute and gobbled up a fourth from point-blank range shortly after.
Palestine carved out a little piece of history for themselves in their first Asian Cup appearance when Jaka Hbaisha scored a consolation goal five minutes from time.
"We might be out of the tournament but we still want to finish on a high," said Palestine coach Ahmad Alhasan. "We want to repay the support of our wonderful fans by getting a victory against Iraq."
After being beaten 1-0 by Iraq last Monday, Jordan rode their luck in the opening skirmishes as Hisham Salhi's viciously dipping effort was tipped onto the bar by goalkeeper Amer Shafi.
Awestruck during a 4-0 thumping by Japan in their opening game, the Palestinians paid the price for their gung-ho approach, however, Ahmad catching them cold before Aldaradreh ran riot.
"I thought the players would be climbing up the ceiling," said Wilkins. "But they were pretty subdued to be honest. But we've given ourselves a chance -- which was the objective before the game and it's back to the drawing board."