11.08.2016 05:30 h
Olympic turmoil deepens Argentine football's decay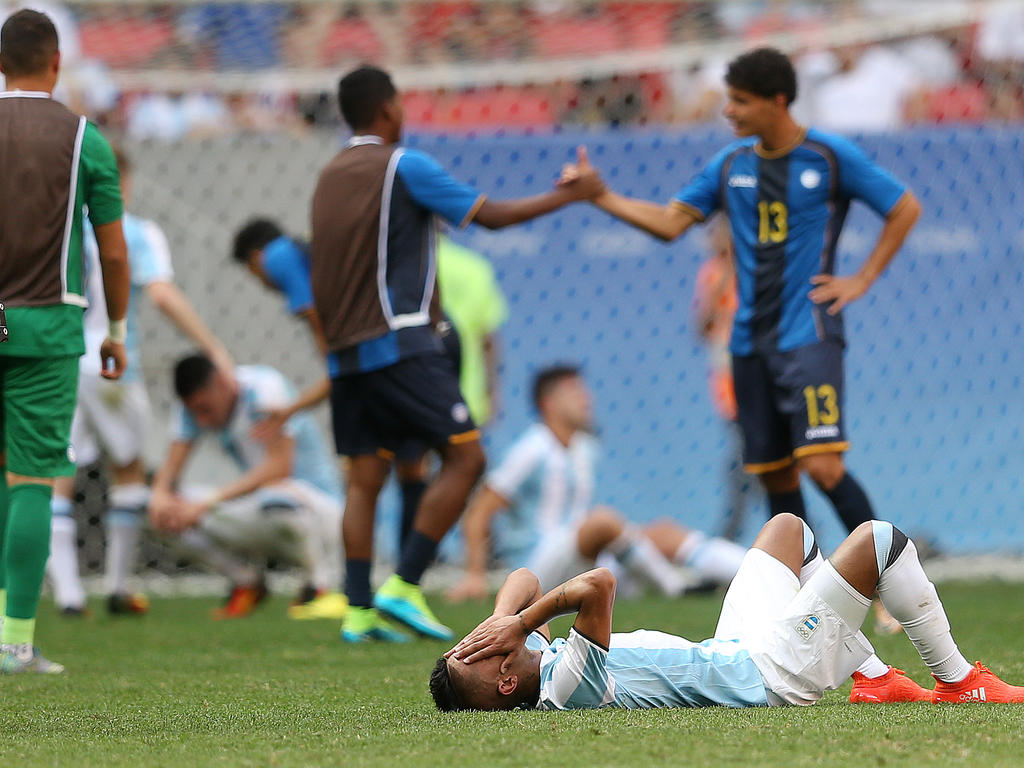 A painful Olympic Games exit to Honduras plunged Argentine football deeper into crisis Wednesday as administrative chaos off the field ended chances of offering some relief to the heartache of three final losses by the senior team in as many years.
The two gold medals won at the 2004 and 2008 Games make football Argentina's second most successful Olympic sport, yet there was even doubt they could field a team for the Games in Rio due to the explosive fallout from their Copa America final defeat to Chile in June.
Five-time World Player of the Year Lionel Messi's international retirement overshadowed the turmoil caused by a football federation described by the country's president as "corrupt" and branded a "mafia" by Argentina's favourite son Diego Maradona.
The Argentine Football Association (AFA) is currently in the hands of a temporary normalising committee appointed by FIFA after being decimated by corruption allegations and rows over TV rights.
Olympic coach Julio Olarticoechea, who had been coaching the Argentine women's team, was put in charge just weeks before the tournament began after Gerardo Martino resigned citing the power squabbles at AFA and the club's resistance to releasing players for the Games.
After Martino's coaching staff also resigned, Olarticoechea was the only coach still contracted to AFA.
Organisational chaos also eventually wore down Messi's patience.
"Once again waiting on the plane to try to take off. What a disaster AFA are!" Messi uncharacteristically raged to his 50 million Instagram followers two days before announcing his retirement after blasting a penalty over the bar in the shootout loss to Chile.
Messi retired without winning a major international title having also missed out in the 2014 World Cup and 2015 Copa America finals.
Argentina's new senior coach Edgardo Bauza flew to Barcelona on Tuesday to try to convince him to reverse his decision ahead of the resumption of World Cup qualifying in September.
Former AFA head Luis Segura quit in June after he and six other AFA directors were indicted on suspicion of embezzlement over the distribution of broadcasting revenues.
Major clubs like Boca Juniors and River Plate want to break away and form a "superleague" to generate greater TV money, whilst smaller clubs fear they will get squeezed out by their bigger competitors.
"We cannot carry on with a system full of bad habits and corruption," said Argentine president Mauricio Macri, himself a former football executive.
Courts last month started auditing AFA's accounts to determine how it used its state funding over recent years.
Meanwhile, Maradona has branded AFA's management a "mafia," pointing the finger at its late president Julio Grondona.
"We still have the same Grondona mafia," said the 1986 World Cup winner last month.
"I want an audit. I want a clean and transparent AFA."
Maradona stuck the knife in once more following the two-time world champions' latest fall from grace.
"The directors were in Miami sunbathing and they don't care about Argentine football," Maradona told Radio La Red on Wednesday.
"Honduras can't beat us. A country for which I have a lot of respect, but they play baseball. They don't know anything about football."
Argentina's preparations for the Games were a disaster from the off.
The day after AFA announced the 18-man squad for the competition, three players: Luciano Vietto, Víctor Cuesta and Lautaro Gianetti dropped out under pressure from their clubs.
"The start (of the training camp) was difficult," said goalkeeper Geronimo Rulli.
"Sometimes we were seven, the next day 11, the next day 18 then someone would be injured and we would be back to 16."
Olarticoechea, though, turned on the European clubs that refused to release players so close to the start of their seasons.
"I feel for the players that couldn't be here because, no matter the result, an Olympics is a once in a lifetime experience to live in the village with the best athletes in the world," he said.